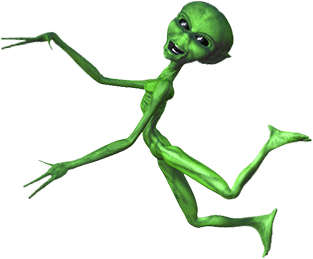 We created this guy just for fun using Poser software.
We call him "happy drunk alien being tossed out of his first bar".
INKSCAPE
Inkscape is a professional vector graphics editor for Windows, Mac OS X and Linux. It is free and open source.
Whether you are an illustrator, designer, web designer or just someone who needs to create some vector imagery, Inkscape is for you!
Flexible drawing tools - broad file format compatibility - powerful text tool - Bezier and spiro curves.
Xara Photo & Graphic Designer
Create effects such as bevels, shadows and transparency using action tools. Also move, rotate and resize objects. Magnify images or objects up to 25,000% for detail work using the zoom tool. Photo composition tool allows non-destructive photo editing of high resolution images. Illustration, photo editing, DTP and document creation.
Xara Designer 9 includes the highest quality vector anti-aliasing and high performance vector rendering.
Xara Designer supports Adobe Photoshop® plug-ins, free and professional. Software arrives with over 35 built-in Live Effects.
Trial Download.
CoffeeCup GIF Animator
CoffeeCup Animator allows you to create animated graphics for your web pages and sites. Browse images in a folder by previewing a thumbnail, and then drag and drop images into your animation. GIF Animator software can convert JPEG and BMP graphics to GIFs automatically, as well as import and export AVI files.
You can also save your graphics as Flash (.swf). HTML source is generated for easy insertion into code. CoffeeCup GIF Animator can also create favorite folders for quick recall, view both frames and animation simultaneously, export frames to a single image, and view thumbnails with size and dimension information.

Trial Download
Create art and animation using 3D characters. Whether you are a professional or a beginner in graphics, Poser 11 is simple to learn and easy to use. Poser includes over 3 gigabytes of ready to use human and animal figures plus clothing and props.
Build 3D scenes, walking or running characters and talking people. Animate lights and cameras. Render images to photorealistic quality. Poser includes pressure sensitive tablet support. Preview every scene change you make with the new Interactive Raytrace Preview with a fast raytraced display.
Whether you're a professional artist, illustrator or animator or simply enjoy creating 3D characters, you will be creative with Poser 11.
Magnet and Deformer Weight Map Painting Tools.
PrimoPDF
PrimoPDF is a basic yet powerful application that revolutionizes PDF file creation. You can construct perfect PDF files using the straightforward drag-and-drop tools.
PrimoPDF creates all types of files in standard PDF format faster than competitors, making it one of the best free applications. The custom settings give you the ability to lock files and determine design specifications, so files will be exactly as you want them.
PrimoPDF is a free download from cnet.com
CorelDRAW® Graphics Suite 2017
Vector illustration, page layout, photo editing, tracing, Web graphics and animation in one tightly integrated software package.

Designed for professional and aspiring designers alike, Graphics Suite offers a quick, intuitive workflow, high-value digital content, market-leading file compatibility and graphic design tools that let you do more than you thought possible.

Video tutorials and online guidebook.
10,000 high-quality clipart and digital images
2,000 professional, high-resolution digital photos


Free Trial Download
PaintShop Photo 2018 Ultimate
Creative Photo Editor - Enhance your photos and create professional-looking images. Corel graphics software is everything you need for digital photography. Photo Pro image editor delivers professional results easily and affordably. Protect your photos by easily adding a visible watermarks to your images..
Digital Photography - Includes High Quality Photo Enhancement - Camera Filters - Easy Photo Sharing
Batch Processing - Make adjustments to one photo, then simply apply the same changes to multiple photos.
HD Video - import video, make edits then export in HD video

Free Trial Download
Animation Software
Clipart and Graphics Menu
Information and Free Services