Skeleton animation trick or treating with jack-o'-lantern candy bucket. Image has dark matte.


Homage to "The Children of the Hydra's Teeth" (Ray Harryhausen, June 29, 1920 – May 7, 2013).

There is nothing like a beautiful woman that morphs into a hideous monster just to say "Happy Halloween."


Young witch flying on her broom and having fun - black background.

Happy Halloween

This really creepy guy comes from our face clipart section. We thought he might be appropriate (if that is possible) for the Halloween section.


ghost haunting cemetery, RIP


Zombie chasing a girl on black.

green frankenstein

HTML copy/paste code

jack-o'-lanterns

code for websites

space ghost clipart


halloween bat clipart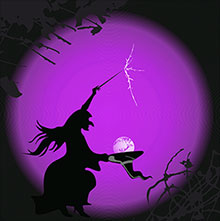 A witch busy casting a spell.


A trick or treater at your door animation.


A vampire animation.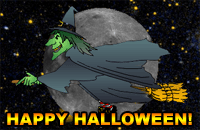 Happy Halloween clipart



Jack-o'-lanterns with Happy Halloween and a black frame.


Animated jack-o'-lantern with large sharp teeth.


Hiding in a jack-o'-lantern animation.


Nice jack-o'-lantern spinning.


A ghost and jack-o'-lantern Happy Halloween animation.


A fun little scary skeleton.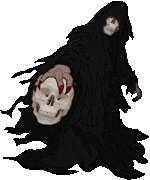 Grim Reaper clipart with a transparent background.
To use our halloween clipart please give us credit.
"Free Gifs & Animations "https://www.fg-a.com. Thank You.
or simply copy and paste the snippet of code below into your credits page