Animated snowman family.

HTML code


Red and green animated Christmas horizontal line with elf.

HTML copy/paste code

Animated Christmas Tree with lights and gifts.


An animated Santa riding his scooter.


Merry Christmas in red and green with glitter animation.

Animated Christmas Candles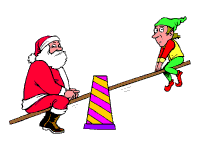 Santa and Elf playing copy/paste code


Animated Merry Christmas HTML copy/paste code


Animated Christmas House with snow, lights, wreaths and tree.


Christmas carolers singing their favorite Christmas songs.

What do you want for Christmas little girl?

Santa animation. Delivering gifts in a hurry.

Animated Christmas decorations.

Merry Christmas!

Animated Santa Claus

Merry Christmas from a cute little snow woman.

Animated fireplace with candles on mantle.

Frosty with glitter.

Christmas tree fully decorated with presents and even a Christmas stocking.

Merry Christmas with flashing colors.

Santa Claus putting presents around the Christmas tree.

Merry Christmas with animated decorations.

Santa with his friends.

Frosty and his friend.

Christmas Reindeer - Rudolph.

Santa playing golf in the snow.

Christmas Magic with Santa and Frosty.

Santa on his sleigh animated.

Child opening Christmas present.

Christmas tree with flashing star lights.

Snow globe with Santa Claus and his friends.

Little Christmas Angel

Ringing Christmas bells.

Snowmen playing in the snow.

Merry Christmas from the elves.

Merry Christmas with Santa and a little Angel plus a Christmas teddy bear.

Man using his best pick up line at the office Christmas party.

Animated snowman with Merry Christmas.

Santa Claus in his sleigh being pulled by his reindeer.

Santa and reindeer having fun.