Bees, Bees, Everywhere Bees - Animated Background
A subtle yet busy animated background. This background has that "I'm so cute" feeling about its appearance. Look, isn't that a cute little bee. Look, there's another one. Wait, there's more. Run For Your Life!

To save this multiple bees flying animated background, simply place your arrow somewhere on the animated background clip art and 'right click' then choose "save background image as".

Return To Animated Backgrounds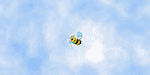 Lots of bees on a blue sky.
Free Animated Background Pages

Free animated backgrounds, bees, cool, moving background, pics, my space backgrounds, wallpaper, background pictures, free myspace backgrounds.
You may save and use this animated bee background image on web space you may have, free of charge.