Ms. Claus Christmas Background on Black

To save this black background for your web page simply right click anywhere on the image and choose "save background as".

Main Clipart Menu Christmas Clipart

Christmas Background Pages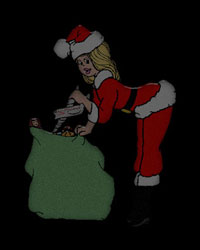 Helping Santa get ready for the big day 200 x 250 pixels.
Black background with Mrs. Claus ( or Santa's little helper ) and lots of gifts.
backgrounds, seamless, wallpapers, toys, websites, Christmas