I Need A Hug Background
Friendly seamless hugging background image.
This little fellow needs a hug really bad.
Size 250x145 pixels, 12kb.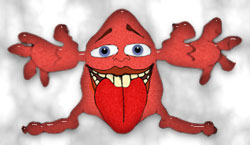 I know this guy shows up in several places on our site. Can't be helped, we like this fellow. I think he reminds us of some of the hugs we have received over the years.
backgrounds, big hug, seamless, websites