Black Background - I'm Melting

You may use this free black background image to enhance your web pages. He looks a little pre-squashed.

Black Background Pages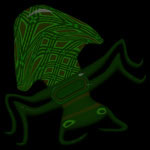 As you can see, this little squashed bug was created so you can write directly on top of the image.
To save this crazy background, simply place your arrow anywhere on the background image and 'right click' then choose "save background as".
If you use our crazy backgrounds please give us credit for our designs. Thank You.


backgrounds, wallpapers, websites, seamless, green and black, bug