Black Background - Red, Blue & Yellow Symbol on Black

You may use this free black background image to enhance your web site or personal pages.

Native symbol with black overlay.

Black Background Pages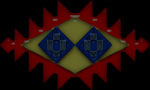 Even with all these bright colors, you can still write directly on top of this background image if you wish.


seamless, backgrounds, native, wallpapers, websites