Venus spinning with heavy clouds and storms. Animation has transparent background.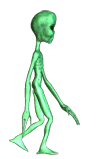 Alien moving left to right. Animated alien was designed for light or white backgrounds.


Animated green alien with big red eyes and a large head. Animation is designed for white or light colored backgrounds.


Fast moving alien. He has a small shadow on white.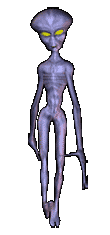 This blue gray alien has yellow eyes and a wild walk. The animated alien was created for black and dark web pages.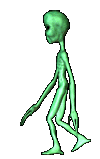 Green alien swinging those arms. This animated alien has a black matte for dark backgrounds.